How to play on the fresh realm?
1. Make sure you have your WoW 1.12.1 Vanilla client ready.
2. Create an account on our website.
3. Ensure that your realmlist.wtf file is set to Elysium, you can find it below this text.
4. Start the game and use the credentials you made in step 2 to log in.
Just a note — you have to modify the file "realmlist.wtf" in your game directory. To do this, open the file up in notepad, delete anything in the document, and copy paste the following line:
set realmlist logon.elysium-project.org
As we stated previously, this will be the fresh server in which you will be able to progress through all patches within a year (give or take a month).
What are the patches?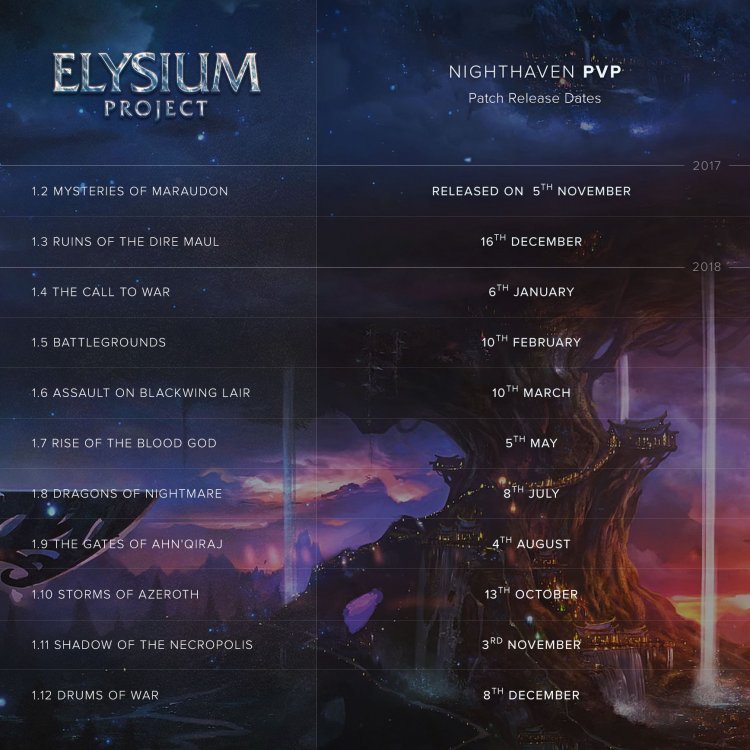 1.3 — Delve into the ruins of Dire Maul and take down giant ogres or face off with two new world bosses.
1.4 — The "golden age" of World PvP, fueled by the new Honor System. See you in Hillsbrad Foothills!
1.5 — Steal some flags and rise the ranks in the long-awaited Warsong Gulch and Alterac Valley.
1.6 — Nefarian arrives! Take him down for tempting rewards or discover the mysteries of Darkmoon Faire.
1.7 — Uncover the ancient city of Zul'Gurub with 20 adventurers and fight for control of Arathi Basin.
1.8 — Four corrupted dragons from the Emerald Dream have been sighted, challenge them if you dare!
1.9 — The Gates have opened! Delve into 20-40 man raids and unlock new rewards of epic proportions.
1.10 — Upgrade your Rare-quality Dungeon set to prepare yourself for all-new Dungeon boss encounters.
1.11 — Horrors have been unleashed on Azeroth, gather in the Plaguelands and take down this new threat!
1.12 — Face off against players across realms and head to Silithus & Plaguelands for World PvP objectives.
Regards,
Elysium staff.
Update 25 / 02 / 2018
Nighthaven PvP — Patch 1.6 "Assault on Blackwing Lair"
Blackwing Lair is the seat of power for Nefarian, son of Deathwing, and brother to Onyxia. Following in the footsteps of his father, he has created a laboratory filled with elite orcs, mad goblins, various dragonkin, and members of the chromatic dragonflight, with whom he plans to defeat Ragnaros and the Dark Iron dwarves before moving on to the rest of Azeroth.
Many valiant souls will enter the lair. Some will emerge victorious; the others will remain only in memories told in stories for generations to come.
Blackwing Lair is a 40-player max-level raid that opens for Nighthaven's players on March 10th. Adventurers will be once again be immersed in the unforgettable experiences of raiding as it was during the Vanilla era of World of Warcraft. You will again experience a meeting with Vaelastrasz the Corrupt, subordinate your will to Razorgore the Untamed and calm your hunters before Chromaggus, the two-headed creation of Nefarian. After all, no creature looked better than Chromaggus running next to them on the battlefield.
Are you ready for a meeting with Nefarian? Tell us how you, a mere mortal creation, will lie defeated at his feet. Or, will you overcome the odds and stand on his lifeless body and take screenshots?
Update 05 / 01 / 2018
The Elysium Project's Call to War
The Elysium Project progression realm Nighthaven has been live for two months. A stable online player population of 3,500 - 5,500 players, and a near even faction balance between the Alliance and Horde, have made it the place to play Vanilla World of Warcraft. As a fresh progression realm, Nighthaven is full of all new characters that will work through Vanilla content from Patch 1.2 through to Patch 1.12 over the next year.
On January 6, 2018, the next step in the progression begins with the release of Patch 1.4. The much anticipated Player versus Player Honor System begins with The Call to War. Players can begin to gain ranking for PvP performance, and each faction is offering lucrative rewards for those distinguishing themselves in World PvP!


Update 23 / 12 / 2017
Dear community!
As we celebrate everything we have accomplished this year, and look towards the bright and exciting future of 2018, we would like to thank all of our players for spending your gaming time with us.
Your loyalty and commitment to the project, and each other, has made this year a spectacular one. We are truly grateful to be able to bring a stable Vanilla environment to so many people!
With the exciting news of Classic Vanilla being launched by Blizzard (Soon™) – the future has never looked brighter for the WoW private server community.
Finally, we'd like to thank all our dedicated staff for the countless hours they've spent volunteering on this project. You have all exceeded our expectations, and we are incredibly thankful for your time and support this past year. We couldn't ask for a better team.
As a bit of a Xmas surprise, the GM team has setup an event on Nighthaven that will allow players to join in the fun on GM Island until January 1st! There will be mysterious Christmas strangers in the major cities that will teleport you to GM Island where you can chat with GM's in game, as well as other players of both factions!
From our family here at Elysium, we'd like to wish everyone a very Happy Holidays!

Sincerely,
Elysium Staff
Update 7 / 12 / 2017
Dear players,
We would like to inform you about upcoming plans and some information regarding all of our servers, including progression to The Burning Crusade. Please read this carefully and use this forum to give constructive ideas and suggestions. As always, we take your feedback seriously and may action any information forwarded to us.
Nighthaven
Nighthaven is a fast progressive fresh server which launched on the 5th November 2017. This server will progress through the patches in around 12 months time.
Nighthaven has been a huge success and with peaks reaching to 5,500 players and rising, we are extremely grateful to the community. We would also like to express how enthusiastic and friendly the community is. It is a pleasure to see such a community grow, even the Orcs are being nice!
The system running the server is handling all information extremely efficiently and we are addressing the random crashes which occur. Most crashes have been resolved now, and it has only been happening occasionally but we're almost there! The Game Master team are extremely efficient and tickets are answered within 15 minutes, if not sooner. This is dependent on the situation but most common issues are within the 30-minute mark! We will continue to advertise Nighthaven, and we will continue to provide transparent and recent updates regarding the server and all statistics regarding it. Thank you for playing, and don't forget to invite your friends!
The Burning Crusade
We have begun development and fixes to our TBC realm. So far, we have a strong team looking into all possibilities and the plan is to get a Beta version out for you in the near future. We receive many questions about this, so I will try and answer a few of them here:
How can we transfer and who can transfer? Before the launch, characters from Nighthaven will be invited to copy their characters over to our TBC realm.
What happens to our Vanilla characters? Nothing, they will stay uncopied on the Nighthaven server. They will be untouched and available for use anytime. As above, a copy of your character will be in the TBC realm if you choose to do so.
What about Stratholme characters? See below on details about Stratholme, but there may be a possible to have all previous backups that we owned in which we can transfer to the TBC realm for you.
Stratholme
Stratholme and the character restoration tool was purely made to give players a choice as to which server to play on, so we decided to give the community that choice. The character restoration tool is working for the majority of players and has successfully restored over 10 thousand player accounts. This transfer does not affect your Light's Hope characters and all information provided is securely protected, despite rumours. We can also prove that. We were extremely unhappy with the unprofessionalism of some parties, but the past is in the past.
On that note, we will, unfortunately, be closing the Stratholme server down. We will still provide character restorations in case of unforeseen circumstances so you will always have a home to go to. We also believe that if certain Private Servers are shutting down due to the launch of official realms, we want to give those players the option to stay alongside their friends and guildmates.
Why has this decision come about?
We are aware that many factors come into this, so we will go through some of the basic ones.
We are well aware that a lot of players are loyal to us, and that they wanted to play on Stratholme for awhile. Unfortunately, due to the actions of particular individuals, and the unprofessionalism in how the situation was handled, it took us far too long to allow the players to have a choice in where they wanted to play. Ultimately, a lot of players wanted to move, but a lot also didn't want to. This break in playing time in which we were trying to restore services took longer than expected and now players are unlikely to want to return, and that... we understand. We understand that players want to stay with their friends and guildmates. We wish you the best of luck but please remember that we will always stand by the community of Anathema, Darrowshire and Elysium servers and will always provide a place for you when you need it
We would like to thank this community for bringing us hours of entertainment whilst watching you Raid, PvP and trolling us on Discord. We wish you happy adventures and again, we understand as to why you'd choose to not go through the trouble when you have somewhere to play. But remember, the restoration tool is still available, and we will provide you with a home if the unexpected happens.
Thank you all for your support, and there will be some very exciting news coming up soon!
Regards,
Elysium Staff.
Update 14 / 11 / 2017
Greetings heroes of Azeroth!
It's been a while since we've updated you on our forums, so here are some of our latest updates. This should help answer many of your questions.
Anathema, Darrowshire and Elysium will be merged into one realm; Stratholme. Here you will have access to your old accounts and characters. You will be able to pick up from where you've left off! Expect the server to launch within the next 24-72 hours.
Character restoration, located on our website, will bring your characters up to date on Stratholme. If you have played on Light's Hope and changed your password, then you should use their credentials. Do not forget to select the correct realm. Once your credentials are accepted (which may take up to a minute or two) you will be offered a list of your characters. Select the character of your choice and press the restore button. Repeat process for any characters that you wish to be restored.
Our newest realm — Nighthaven PvP. Happy adventures for each and every one of you!
Opening of our PTR (Public Test Realm) with 10x increased rates where you are able to test the things you're interested in, fast! Currently PTR will be running on the 1.3 Patch — Ruins of the Dire Maul.
If you are interested in contributing to server development you are very much welcomed to do so at https://github.com/elysium-project/bug-tracker. Feel free to report any game related issues you're facing on our realms. (You may have to create an account, if you don't have one already.)
Also, you might want to take a look at:
— Where and how to download/installWoW 1.12.1 client.
— How to change your password. (Please note, you MUST confirm the password change in your e-mail in order to be able to log in after you have reset it.)
— How to recover my character(s)?
— Frequently Asked Questions.

Sincerely,
Elysium Staff
Update 2 / 11 / 2017

The Elysium team is proud to announce our newest fresh realm: Nighthaven PvP

Nighthaven is going to be a fast-paced progression realm, starting on version 1.2.

Fast-paced progression means that it will take far less than one year to progress from versions 1.2 to 1.12.1 (the exact timeline will be published soon).

Additionally, the realm will be featuring progression through expansion. This means once 1.12.1 is launched, the preparation for a transition to TBC will begin!

— As mentioned above, the initial version will be 1.2 with all that entails.
— The raids available at launch will be Molten Core and Onyxia's lair.
— All characters from the Nighthaven PvP will continue to play on Elysium's TBC realm!
— Battlegrounds will not be available at launch due to patch progress. Until patch 1.5, there were no Battlegrounds available on retail, so players will able to experience World PvP stage of the game in its full glory.
— Experience, gold, and loot gains will be the standard Blizzlike 1x.

Nighthaven will be the first World of Warcraft server in emulation history to begin with fully functioning and accurate raids, dungeons, questing, and scripting.

Whether you are a fan of the Elysium Project or not, we are proud to share this achievement with the community.

We have all come a long way since the early days of emulation, and are excited to see the most authentic fresh realm to date.

The server will be launching this Sunday, November 5th. The servers will open at 16:00 GMT+1.

As for Elysium, Anathema, and Darrowshire; they will all 3 be merged into one server named Stratholme PvP. All the progress of your characters on these realms will be saved. Name priority will be as follows: Anathema > Elysium > Darrowshire. Stratholme will be running on 1.12.1 indefinitely, and will not reset or shut down. At some point will be able to progress to TBC.

That concludes our announcement. Remember that no matter what is thrown at us, nor what we throw at ourself, your progress will always be saved, and you will always have somewhere to play.

Sincerely,
Elysium Staff
Update 01 / 11 / 2017
Hi there! The servers will be launched today at 18:00 (GMT +1).

Our realmlist remains the same: set realmlist logon.elysium-project.org
Update 30 / 10 / 2017
Dear community,

Our old realms will be online very soon at this point. At the moment, new web portal has been activated, through which you can restore your characters to the state in which they were before our servers got shut down. Also, if you have continued or just started a character on Light's Hope (the project launched by the former system administrator), the game progress will not be lost — your characters will be transferred back to our project. Light's Hope servers aren't in any way affiliated with the Elysium project and we advise you not to share your credentials there.

To restore and transfer characters you must follow these instructions:

1. Log in to your Elysium Project account (Or Light's Hope, if you changed the password) On this page.
2. Choose your server: Elysium / Anathema / Darrowshire
3. After successful authorization, you will see a list of your characters.
You must select the character you want to restore. If the procedure is successful you will see the message Character Restored.
4. The procedure must be repeated for each character you have on your account. Please be aware that we cannot restore characters that are below level 10. We are sorry for the inconvenience.
5. Please keep your account credentials safe. To change your password please click here.

For the sake of our players we are offering them a choice where to play. One person should not have the right to decide for everyone, where to play and whom to trust their personal data. Here at Elysium you have a real choice: continue playing your old character as it is now or do not, it's up to you.

Despite the mistakes we made in the past, the characters and personal data of the players have always been stored on our project in safety and under protection. During the year we will improve the efficiency and quality of our game servers and services and also we promise that the Elysium Project will continue its work no matter what. We realize that with recent events our realms will be affected to some point. Once we see how actually are realms are standing we will consider a possible server merge and opening a fresh realm in time to come.

We want to thank all the players who supported us during these couple of weeks.
Thank you all for being incredibly patient and understanding during this difficult time in Elysium's history.

See you in Azeroth!
Update 25 / 10 / 2017
The forums are back online. Your guides, notes and guild recruitment pages and everything else that comes with it has not been lost! https://forum.elysium-project.org
Update 24 / 10 / 2017
Dear Players,

It has been a long 24 hours since our last update. Part of that comes from our commitment to bringing a level of honesty and transparency that you ask for and frankly, you ALL deserve. What this means is, although there will be far fewer vague blanket statements, our important announcements will be filled with actual information that you can all share and understand. That being said, we want to update you on the status of your servers and your website.

Servers are functioning as intended. We have been stress testing the servers over the past 24 hours while we worked on the website and the character recovery portal. Servers are functioning well under sress and we do not anticipate any issues.

Our Character Recovery Portal is functioning as it should and has just finished being tested including a few tweaks that have been applied. We will open the character Recovery Tool up several hours before we open the servers, to give all players a chance to restore their data equally with no rollback. Please make sure you check your character once you log in, i think you'll have quite a surprise!

The website is over 90% completed and just minimal housekeeping is left on it. The forums should be opened tomorrow. Below this announcement is a screenshot of your beloved forums that we know everyone misses (Yes even the Trolls).

So what does this all mean? We are in the final stretch. Once we open the character restoration port, all you need to do is follow the instructions and then you are done. Once this happens servers will be loaded with the character data and uploaded You'll then be able to continue life on Azeroth as if nothing happened.

Also, please be sure to check your mailboxes on each of your chracters once online!

See you in Azeroth!

Sincerely,
Elysium Team
Update 19 / 10 / 2017
We have a possible way to restore all characters without a rollback. We're going to give it a try but it's looking ok. We will keep you updated.
Update 18 / 10 / 2017
Please be assured that the Elysium Project will not be shutting down even after the theft of our database which was deleted by a previous trusted staff member. We are also in the process of restoring all characters information which means there will be.